Delivery and installation are available on request. Natureworks has a collection of various trailers and trucks to help service customers. If you prefer, you can arrange your own shipping.
Pick up from Natureworks premises
All orders are available for pick up from our showroom in Highvale near Brisbane at no charge. Please contact us before visiting, to make sure your items are ready.
Delivery
We can deliver anywhere in Australia or internationally. Our arrangement with a commercial carrier means we can ship to most areas of Australia at reasonable rates. We are also happy to work with a carrier of your choice.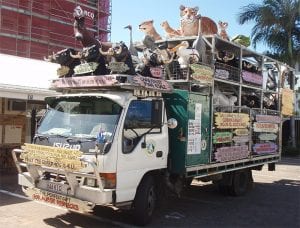 Natureworks accept no responsibility for breakages occurring during transport, although all care will be taken to pack items securely. Insurance is the responsibility of the purchaser.
As the vast majority of our products do not conform to standard boxing methods, we need to assess your purchase list with regard to packing size and weight, prior to obtaining a delivery charge quote.
Please ask about delivery costs when requesting a quote for products. For more info about the ordering process, see how to order and the guidance on our FAQs page.
Installation
Professional installation is available for custom projects, if stated in the project agreement. We'll discuss this with you when planning your custom design project. Many installations can be completed by clients using our installation instructions and fit-out kits. We regularly complete installations ourselves as required, just ask us!