Great White shark Sculpture 5.5m (18ft) – Hanging or on a pedestal
The Melbourne Museum has chosen this beautiful sculpture to hang from their foyer roof near the entry.
If you would like to know more about the story behind the making of this 18ft museum-quality shark sculpture  …
How we created the shark from only the pectoral and tail fins
The pectoral and tail fins were brought to David Joffe (ex museum preparatory – the owner of Natureworks) in 1980 who commissioned David to complete a fully fleshed out reconstruction in a durable fibreglass medium.
This photo shows the advanced stage of the armature incorporating the two cast fibreglass fins.
Production details steps

Forming the shark structure
step 1 – Steel bar armature welded to hold the wire mesh
step 2 – The wire mesh over a steel bar armature
step 3 – The wire mesh was rendered with a sculpting plaster then refined
step 4 – All teeth, gums, gills, eyes details are carefully replicated to museum standard and are what make this a high-end reproduction
step 4 – An accurate fibreglass mould was made without any distortion
Note:-  Having no skeletal structure large sharks balloon out and the shape distorts when on dry land
Note:- Sculpting from scratch is the preferred method for achieving the correct proportions
Note:- This casting is the most accurate reconstruction of a large great white shark in any museum in the world
This is a high-end life-size Great White Shark art sculpture and is only sold by Natureworks directly and there are only a few pieces that have ever been created and sold.
If you are wanting a quality replica this 18ft shark hits the mark! – Durable anatomically correct fibreglass construction
Available hanging or on a double pedestal- see photos
Realistic teeth, texture, proportions, and colouring – this is where his artistic and specialised skills and the value of working in a museum for 10 years all come together
Many deceased animals from zoos around Australia have been brought to David to mould and create a memorial reconstruction of the original animal. –
The lead time is approximately 5 months – Ideal as a centrepiece in exhibits or interpretive reconstructions for marine creatures
Ideal sculpture for marine enthusiasts that would like a display somewhere in his mancave, mansion, exhibit or museum somewhere in Australia – save and protect our wildlife!
Delivery
Delivery method – direct via a 20ft container – we can fill up the empty spaces within other marine products to give our customers value for money with delivery options. – download our nautical theming catalogue here below
If this 18ft shark is the only item you require it will still fill the extremities of a 20ft container because of both the length and the width. This is a "BIG SHARK" – you will need a bigger boat to catch this one!
We usually ship all over the world and use various freight companies, sometimes it is a good idea to gather quotes from your part of the world to help you decide on your shipping options, We are happy to provide a standard 20ft shipping container quote if you wish to go ahead with the commission of this sculpture.
Remember to fill the empty corners of your container whilst you have the opportunity to freight items direct to your door.
Nautical water play catalogue – – download here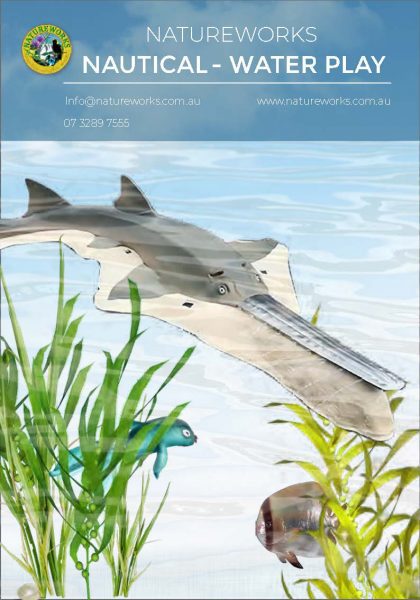 If you are wondering if this sculpture is worth purchasing – Maybe ask yourself do you want a quality sculpture that you can be proud to hang or display on a pedestal and create your story around this magnificent creature of the deep. The Melbourne Museum is proud to hang in its entry foyer. – see photo
Similar items
If you are after a smaller 12ft version of the Great white shark?
The body head and completed reconstruction were guided by the 12ft shark that was moulded from a live cast from a dead fish that David dragged out of the shark nets 2km out from the beach at Bribie Island at 3.00 am one morning in 1970. " I dragged the shark in my 10 ft tinny back to the beach and had to manage the surf! By 6.00 pm that night I had moulded the shark" This 12ft piece is NOT as good as the 18ft Great White shark.
Fibreglass construction of a 12ft Great White shark
available with hanging wires or on a pedestal