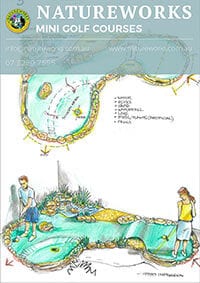 Natureworks has designed mini golf courses around Australia and internationally. This catalogue contains just a few examples – contact us to discuss your ideas!
Are you are in the business of selling fun?
Mini golf has been making a resurgence in the leisure and recreation markets in Australia and overseas. It appeals to all ages, requires no previous experience to play and is affordable for all the family.
We can design mini-golf courses for 9, 18 or 38 holes, depending on the space available, with various levels of difficulty, to cater for beginners and advanced players. These creative and often one-off putt-putt courses provide unique entertainment spaces. Add whatever you want – dinosaur statues, life-size animal sculptures, artificial rocks, pirates, artificial plants and trees, all types of fibreglass characters and other custom-designed playground features.
We manufacture over 2000 sculptured themed props. We can provide all the necessary props and obstacles direct and are able to pass the savings onto our customers. We have a whole catalogue of BIG Things which are a combination of larger than life-size sculptures to giant and enormous creations that can tower over your visitors and will transform your mini-golf course into iconic destinations.
Natureworks has developed miniature golf courses at major golf resorts, shopping centres, holiday resorts, hotels and various tourist venues to attract visitors and keep adults and children entertained for hours. Fascinating installations of miniature replicas of animals and big things creates an exciting environment providing attraction and photo opportunities, as well as fun places to play. See mini-golf projects here