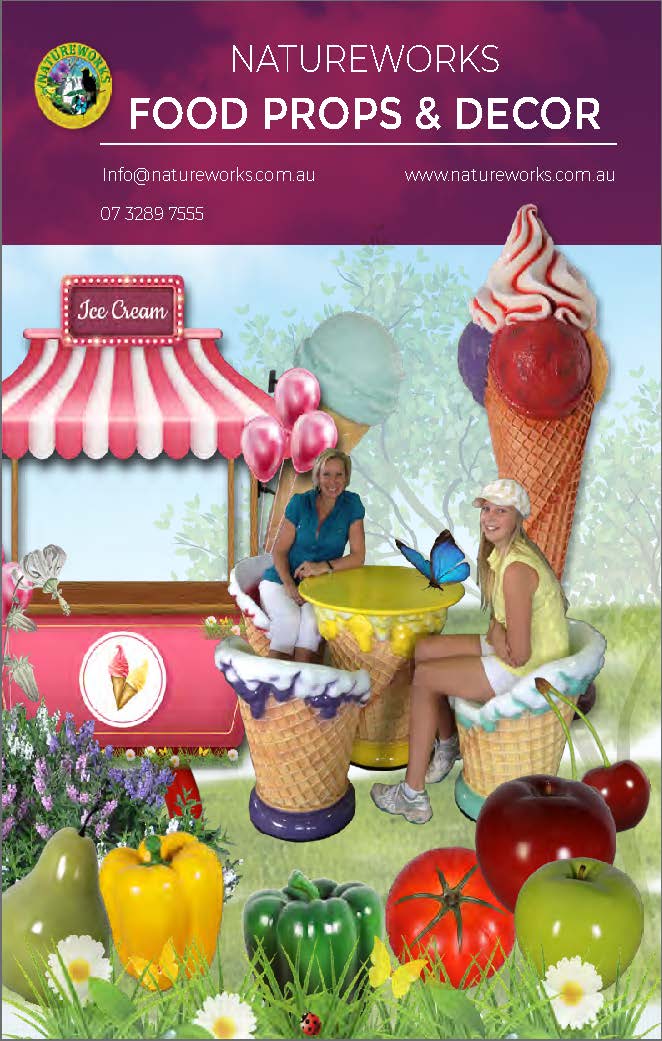 Realistic and fun sculptures of giant-sized food to use as props for catering, cafes, restaurants and food related events. Enormous ice cream cones, apples, pears, peppers, vegetables, gingerbread men, candy canes, Halloween pumpkins and much more. We can design all sorts of other props too – just ask!
Giant food props can help sell your fresh produce, ice creams, cakes and sweets. Quality catering décor props will brighten up your venue. Many are quirky and funny and really do stand out. These are unique designs that many customers love to have their photos taken with. The giant ice creams on the roof of your shop will help advertise your business and let it be seen from afar.
Perhaps you need some additional seating for your customers to sit out our ice cream tables and relax in multi-coloured ice cream chairs? If you are selling ice creams we have various types of extra-large props that can be displayed throughout your store. Ice cream scoops, soft serve ice creams, ice creams on stands and ice creams that are made to hang on your wall. Various colours are available. We can either custom paint your ice creams to suit the flavours you have available or choose from our inventory products that are ready to be sent directly to your door. Chocolate, strawberry, vanilla, mint green, multi-coloured and more. Yum!
You can also browse food prop products online, or see other props for the hospitality industry, such as waiters and signage.